Villa Layout
Villa Ylang Ylang's grand entrance features Balinese statues lining a stone-clad wall, and cascading water jugs filling a lily pond. An inner courtyard dominated by calming pools of water leads to the property's main structure, an impressive two-storey living and dining pavilion. Similar to the rest of the property, architectural design here incorporates contemporary Asian elegantly fused with traditional Balinese touches and high-quality materials.
Predominately open-plan and open-sided, the main pavilion contains living and dining areas plus a well-equipped kitchen. An upper gallery reveals rooftop meditation and yoga deck, spa treatment deck and further dining and lounging areas. The villa's impressive theatre room is also housed in this pavilion.
Landscaped gardens and an attractive 16-metre swimming pool and stone deck spread out towards the ocean from this central building, flanked by a pair of symmetrical, single-storey wings, incorporating six ensuite bedrooms. Revealed within the immaculate lawns are two balés (gazebos) for dining and relaxation. Sun-lit and breezy during the daytime, the villa glows with sophistication after dark.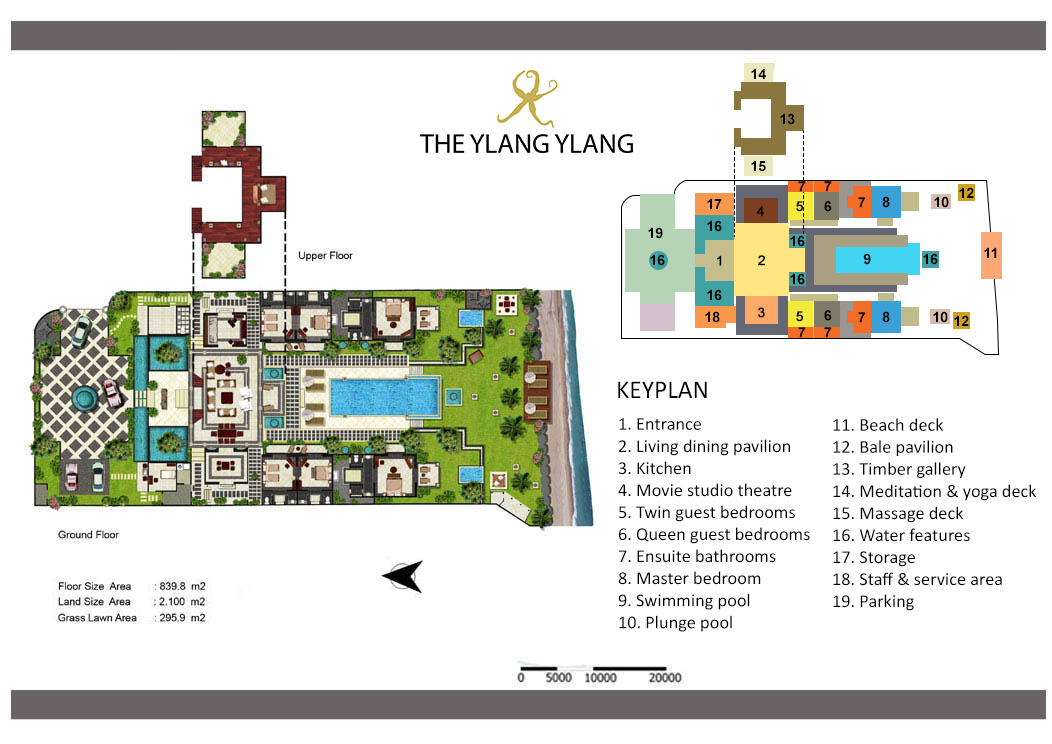 Download in high resolution
Living areas
INDOOR LIVING
The heart of the villa, the main pavilion stands two storey's tall, an impressive building with an 11-metre-high atrium, symmetrically balanced with cream-hued colonnades supporting a soaring, vaulted ceiling. The pavilion looks out across the gardens and pool to the beach
Mainly open-sided (protected by a combination of floor-to-ceiling wood doors, flowing silk curtains and lengthy bamboo blinds), the pavilion is cooled by refreshing sea breezes and ceiling fans. The living area is furnished with large floor cushions, a deep daybed draped in organza silk and flanking comfy sofas, all featuring rich designer fabrics and signature golden and black theme.
At the far end, under a low-ceiling, the formal dining area is dominated by a lacquered wood table accommodating 12 to 14 diners on incredibly comfortable cushioned chairs.  As a backdrop to the dining table is a striking glass sculpture and wall-panel of gold-painted mirrored tiles. Separate, and behind closed doors, lies the fully-equipped kitchen.
At the opposite end of the living–dining area, black sliding doors reveal an air-conditioned theatre room– so called as satellite TV channels and DVDs are projected onto an extensive wall screen. Facing the screen, a black sofa bed is massive enough for the entire family to laze upon, enjoying the hundreds of DVDs available or top-of-the-range surround-sound music system. This cozy room also doubles as a study, with well-stocked library, computer with broadband internet and printer provided for guest use.
Two black lacquered staircases at opposite ends of the living pavilion ground-floor lead up to a black timbered gallery. Mezzanine-style, this open-sided, space looks inwards over the living-dining area. Sunlit and airy, it contains two intimate dining tables and centrally-positioned balcony encased by folding glass doors. This intimate lounging area with gigantic daybed reveals fabulous ocean views and comes flanked on opposite ends by a rooftop deck scattered with floor cushions – perfect for yoga or nighttime star gazing – and rooftop massage deck with two massage beds provided for spa treatments.
OUTDOOR LIVING
From the main pavilion, the 16-metre pool is the central point of landscaped seaside gardens, bounded by swaying coconut palms. Adorned with ornamental water fountains, the salt water pool is surrounded by a stone deck, supplying multi-functional sun beds fashioned from weatherproof rattan and cushioned with black mattresses and silk cushions.
From here, manicured lawns stretch down to a tidal river, glistening black sands and crashing surf; at the gardens' end beside the river is a timbered sundeck, complete with sun-loungers with fabulous unobstructed views across the beach.
Lawns are dotted with Indonesian modern art sculptures mounted on stone and sweet-scented, frangipani trees. At each side, overlooking the beach, is a black, contemporary-take on the traditional balé pavilion: one, designed for romantic dining and sun-filled lunches and the other, for relaxation and massage. These contrast with two miniscule Hindu shrines nearby.
Bedrooms

Master suites
Furthest away from the main pavilion and closest to the beach, the two luxurious master suites face each other across the pool. Similar in style, both come furnished with a king-size, contemporary, four-poster bed, vanity area and silk upholstered couch. Their lavish bathrooms feature generous-sized sunken bathtubs, room-size walk-in rain shower, his n' hers washbasins and, beyond, a small courtyard with modern glass sculptures contrasting with traditional-style Balinese water statue and pool. At the opposite end, a terraced area features comfy cushioned outdoor furniture (with encircling silk drapes for privacy) and a relaxing private plunge pool, looking out over the sea.
Both master suites are additionally equipped with a satellite TV and DVD player.
Queen rooms
Next to the master suites are two Queen Rooms featuring queen-size four-poster beds. Wood and glass sliding doors lead to chic ensuite bathrooms with mini-sunken baths that double as showers (massage and traditional Balinese style).
Junior rooms
Accessed through internal sliding doors from each of the Queen Rooms are adjoining Junior Rooms, each furnished with twin beds – one with canopied, mosquito nets – making them very suitable for children (these rooms are ideally positioned nearest to the living pavilion, so parental surveillance is easy in the evenings). Ensuites with showers are attached to both Junior Rooms.
Interiors in all four rooms follow the style of the master suites and all bathrooms are delightfully sunny, courtesy of a conservatory-style, sloping glass roof decorated with rattan. Outside, intimate patios are edged with white pebbles, black tiles and tropical foliage; ornamented by glass standing candle-holders and furnished with a single, black reclining lounger.